Last Updated: January 28, 2022
How can we connect with God in our daily lives? God is always with us, but when we're rushing through the stress of everyday life, it can be hard to notice His presence. But no matter how busy we are, He is ready to meet us in the moments when we stop to connect with Him. Practicing Christian mindfulness can remind us to turn our attention to God in the details of our daily lives.
The basis for Christian mindfulness is the fact that God is present. Traditional mindfulness encourages awareness of our experiences in the present moment. If God is always with us, then Christian mindfulness is the simple awareness of God's active presence and involvement in our everyday, present-moment experiences.
In this article you will find 7 different exercises to help you recognize God's presence with you throughout the day. These quick, 5-minute Christian mindfulness exercises will give you a variety of ways to see God in your daily life.
Contents
This article contains affiliate links. As an Amazon Associate I earn from qualifying purchases. If you buy something using the links, I may earn a commission at no extra cost to you. Read the full affiliate disclosure.
Christ-Centered Mindfulness Techniques
Mindfulness is a research-based practice that involves both dedicated meditation time and present-moment awareness in everyday life. It's been shown to be helpful for reducing stress, calming anxiety, and improving overall mental and physical wellness. 
However, most modern mindfulness research comes from a secular point of view. So our faith in Christ can both enrich and deepen our use of mindfulness. Also, learning to live mindfully will give us more peace, joy, and gratitude in our walk with God.
Read More: Awareness of God's Presence: The Heart of Christian Mindfulness
When we mindfully pay attention to our present experiences, we start to see God's hand in everything. We discover that He is at work in the small details of our lives. A natural response to this is to give Him thanks and praise! 
So, several of these exercises are based on secular mindfulness techniques, such as the breathing, meditation, and body scan exercises. But these exercises focus on expressing gratitude to God, knowing that He is involved in all these experiences.
Tips for Using These Christian Mindfulness Exercises
These short mindful check-ins are meant to supplement longer, seated meditations when you have more time. Learn how to practice mindfulness meditation as a Christian. Also, here are 5 free Christian meditation apps to help you get started.
Use these 7 quick Christ-centered mindfulness techniques any time you have a few free minutes, to remind yourself of God's presence with you. Try one whenever you need a break from your everyday tasks.
It's completely normal if your mind wanders while you're practicing. Just gently bring your attention back to the present moment, without judging yourself. If you forget to practice for a couple of days, don't beat yourself up; just start afresh the next day. If it helps, try setting reminders on your phone.
An important part of mindfulness is self-compassion. So be gentle with yourself and don't expect yourself to do it "perfectly." There's no such thing as perfection in mindfulness. Be patient with yourself and give yourself grace. Over time, as you practice, it will become more natural to turn your thoughts to God and trust Him throughout the day.
7 Simple Christian Mindfulness Exercises
1. Ground yourself in the present moment.
Grounding means coming back to your present, physical experience. Doing a grounding exercise is helpful any time you feel like your mind is racing, because it will help you let go of your thoughts and focus on the present moment.
When you accept things the way they are in your present experience, you recognize that even this moment of this ordinary day is a gift from God to be thankful for:
This is the day that the Lord has made; let us rejoice and be glad in it. ~ Psalm 118:24 ESV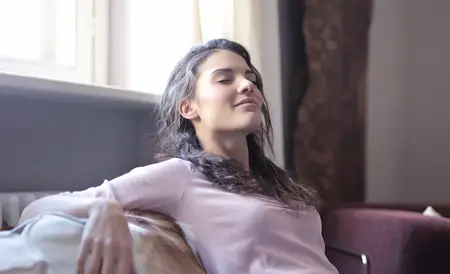 Here is a simple 2-minute grounding exercise that you can do whenever you need to anchor yourself in the present.
Take a tour of your 5 senses. Try to notice the following things. While you do so, mentally name each thing as you identify it. Putting a name to each thing in your mind helps to quiet your thoughts as you stop thinking about other things and focus on the task.
5 things you can see: For example, your phone, a window, a glass of water, etc.
4 things you can feel: Consider the texture of your clothes, the chair you're sitting on, the temperature, etc. 
3 things you can hear: Listen for sounds far away as well as in the same room.
2 things you can smell: Notice the scent in the air, or maybe the smell of your hands or a nearby object.
1 thing you can taste: Maybe your coffee or tea, or simply the taste in your mouth.
As you notice and name the things you can sense, thank God for them. Acknowledge that each detail is something that He has given to you.
An expanded version of this exercise can be found here.
Read More: How Christian Meditation and Mindfulness Work Together
2. Breathe deeply with a two-word anchor prayer.
Another mindful grounding technique is to focus on your breath. The breath is commonly used as an anchor in mindfulness, because it's always there. To also connect with God's presence, breathe with a prayer. This exercise is useful any time you're feeling a bit anxious and you need a way to come back to the present.
Simply focus on your breath as you breathe normally. Thank God for each breath, then start to repeat a two-word prayer in your mind. Breathe one word in, and one word out. If you want to, extend your breaths to be longer and deeper. Deep breathing helps you relax and calm down.
Choose a two-word phrase from Scripture or a phrase that you feel He is teaching you. For example: "Trust God." "God's grace." "Jesus' love." It can be any phrase that will help you connect with God as you breathe deeply.
You can also read a Bible verse and find a two-word phrase. For example, take a Bible verse like: "Trust in the Lord with all your heart and lean not on your own understanding" (Proverbs 3:5 NIV) and breathe the phrase, "Trust, Lean."
Or take a rich verse like this, and choose two of God's characteristics:
The LORD is my rock, my fortress and my deliverer; my God is my rock, in whom I take refuge, my shield and the horn of my salvation, my stronghold. ~ Psalm 18:2 NIV
For example, breathe in "my rock" and breathe out "my fortress."
Use this breathing exercise any time that you need to stop and anchor your mind in Christ. 
3. Take a Bible meditation break.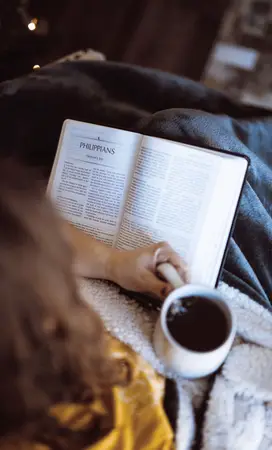 Sometimes throughout the day, we find ourselves with a few free minutes. I don't know about you, but my first instinct in those moments isn't always to turn my attention to God's presence with me. I'm more likely to reach for my phone and check social media. What if we used those moments for life-giving connection with the Lord, instead of mindless distraction?
For a quick, 5-minute Bible meditation break, simply read a short Bible verse or passage and reflect on it. If you instinctively reach for your phone in these moments, try tapping on the YouVersion Bible App instead of social media, and use their Verse of the Day. Or, choose a verse from your daily Bible reading or from a list of encouraging Bible verses:
Read More: 30 Bible Verses to Calm Anxiety and Fear
Here are some simple steps to meditate on Scripture. Start by bringing your attention to God's presence with you in this moment. Then, read the verse and notice what stands out to you. Which word makes your heart leap with joy or gratitude? Is there a phrase that reminds you of something the Lord spoke to you before? Meditatively reflect on what the Holy Spirit is saying to you through this verse. Finally, thank God for what He's taught you, and pray anything prompted by this verse, such as a personal request or a prayer for a friend or family member.
If you want to learn more about Christian meditation, the best way to get started is to try guided meditations. Enter His Rest: 30-Day Guided Scripture Meditation Devotional includes a detailed guide to Christian meditation methods, 30 days of guided meditations on Scripture, and journaling space on every page for writing your reflections and prayers. Get a free 3-day sample here, with step-by-step guidance to start meditating on God's Word:
4. Listen mindfully to people you talk with.
I'm sure this has happened to you recently: You're in a conversation, and while the other person is talking, your mind goes somewhere else. When it comes back, you have to ask them to repeat what they just said.
Mindful listening can help make this common experience less frequent. Mindful listening means paying close attention to what people are saying to you. It helps if you commit to doing this before your conversation even starts.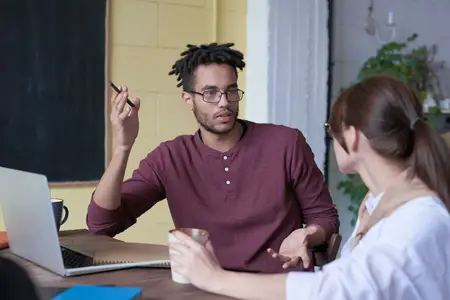 Read More: What is Mindfulness? It's Simply Paying Attention
How do you listen mindfully? Simply be present with your conversation partner. Focus on what they're saying so you don't get distracted by your own thoughts. Appreciate their words before you think about your response. Value them as someone with worth, created in the image of God (see Genesis 1:27), and thank God for your relationship with them.
For more about being present with others and valuing our relationships, I recommend the book Emotionally Healthy Spirituality by Peter Scazzero.
5. Pause to appreciate natural beauty.
God's creation is all around us, and pausing to notice it is an opportunity to see His handiwork and praise Him for it.
The heavens declare the glory of God; the skies proclaim the work of his hands. ~ Psalm 19:1 NIV
Even when we can't go on vacation and immerse ourselves in nature, we can still appreciate natural beauty in the everyday moments of life. If you spend most of your days inside, at home, work, or school, plan to look out the window or go outside for a few minutes.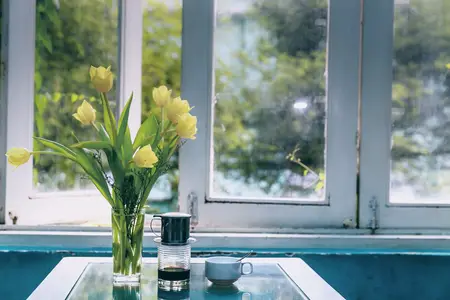 Simply notice and observe what your senses show you. What colors and shapes do you see in the sky and the clouds? Can you hear, or feel, the wind blowing? Do you see flowers or tree branches moving in the wind? Can you see or hear any animals or birds?
When you notice these details, say a prayer of gratitude to God. Thank Him for creating this beautiful world, and for expressing His own characteristics through nature (see Romans 1:20).
Here are some other ideas to mindfully appreciate the beauty of God's creation, even if you don't have much time:
Watch the sunrise or sunset and notice the colors. 
Keep flowers or houseplants wherever you spend the most time in your home.
Go outside at night to look at the moon and stars.
Listen to the birds chirping in the morning.
Notice the weather and the changes in the clouds.
6. Notice how your body feels with a body scan.
I'm afraid that as Christians, sometimes we don't value or care for our bodies as we should. We think that the body is somehow less important than the mind or spirit. But God created us as whole, integrated beings, with a body, mind, and spirit. He even chose to make our bodies His temple:
Don't you realize that your body is the temple of the Holy Spirit, who lives in you and was given to you by God? ~ 1 Corinthians 6:19 NLT
We shouldn't ignore our bodies and what they tell us. If we pay attention, the body tells us when we need to eat or rest, when we should exercise, where we're holding tension, and much more.
One way to get used to noticing how your body feels is to do a 5-minute mindful body scan. Sit down comfortably and close your eyes. Bring your attention to your feet. For a few seconds, just focus on your feet and notice the sensations you can feel there. 
Then, slowly bring your attention up to each part of your body: to your legs, torso, back, arms, neck, and face, all the way to the top of your head. Spend time noticing how each part of your body feels before you move on to the next part. 
This body scan exercise is helpful for grounding in the present moment. It should help you listen to your body and recognize what it needs right now. Also, as you notice each part of your body, you can thank God for it. Praise God for creating each part of your body, and for designing all the details so intricately:
I praise you because I am fearfully and wonderfully made; your works are wonderful, I know that full well. ~ Psalm 139:14 NIV
If you want to learn more, one of the topics in this helpful book about Christian mindfulness is how it repairs the disconnect between us and our bodies: Mindfulness and Christian Spirituality by Tim Stead.
7. Say a prayer of blessing for others.
One exercise in secular mindfulness is extending compassion or "lovingkindness" to others, by directing loving thoughts towards them during meditation. As Christians, we don't just "send loving thoughts"—we know that the Lord hears and answers our prayers. We can show love to people by praying for them, following the example of the many prayers of blessing in the Bible.
Read More: Bible Verses about Mindfulness: Lovingkindness
Praying for others also helps us draw our attention away from ourselves. If we're not careful, mindfulness can lead us to focus too much on ourselves. Extending compassion to others grows our ability to empathize and see things from their point of view. It teaches us to loosen our grip on our own experiences as we remember that each person is going through different things.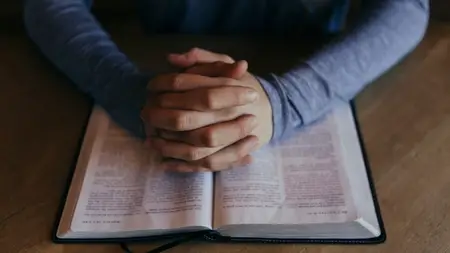 So, take a few minutes to speak a prayer of blessing over a friend or family member. Think of one individual person, maybe someone who asked you to pray for them, or someone who needs God's love and peace right now. Close your eyes and picture their face. Imagine what they might be doing right now, and bring your awareness to God's presence with them, even as He is present with you in this moment.
Then, say a prayer of blessing for them. You can use one of the blessings found in Scripture, and follow it up with a prayer in your own words, asking God to bless them in specific ways. If you can, speaking out loud will help to keep your mind focused while you pray.
Here are just a few of the biblical prayers of blessing to choose from:
The Lord bless you and keep you; the Lord make his face shine on you and be gracious to you; the Lord turn his face toward you and give you peace. ~ Numbers 6:24-26 NIV
May the God of hope fill you with all joy and peace as you trust in him, so that you may overflow with hope by the power of the Holy Spirit. ~ Romans 15:13 NIV
May our Lord Jesus Christ himself and God our Father, who loved us and by his grace gave us eternal encouragement and good hope, encourage your hearts and strengthen you in every good deed and word. ~ 2 Thessalonians 2:16-17 NIV
Here are a few more: 2 Cor. 13:14, Eph. 3:16-19, Heb. 13:20-21, 2 Thess. 3:16, 3 John 1:2
Learn More: Recommended Books About Christian Mindfulness
Christian Mindfulness: God's Presence in Every Moment
To bring it all together, you can use these 7 Christian mindfulness techniques to connect with God at any moment throughout the day. Use them to supplement longer times of meditation, prayer, and Bible study, by reminding yourself of God's presence with you in your daily life.
The amazing reality that God is with us means that we can be mindfully aware of His presence in everything we do. I hope that these Christian mindfulness exercises remind you to thank Him for His active involvement in your life, as you remember to use every moment as an opportunity to glorify Him:
And whatever you do, whether in word or deed, do it all in the name of the Lord Jesus, giving thanks to God the Father through him. ~ Colossians 3:17 NIV
Keep Learning About Christian Mindfulness with The Best Christian Mindfulness Resources
Do you want a free printable reference page of these 7 Christian mindfulness exercises, to put on your fridge, in your office, or wherever you want a reminder to connect with God? Download it right away when you subscribe to the Calming Grace newsletter, with encouragement, devotionals, and tips for living mindfully as a Christian:
P.S. Don't forget to bookmark this article or save it on Pinterest so you can come back to these exercises later: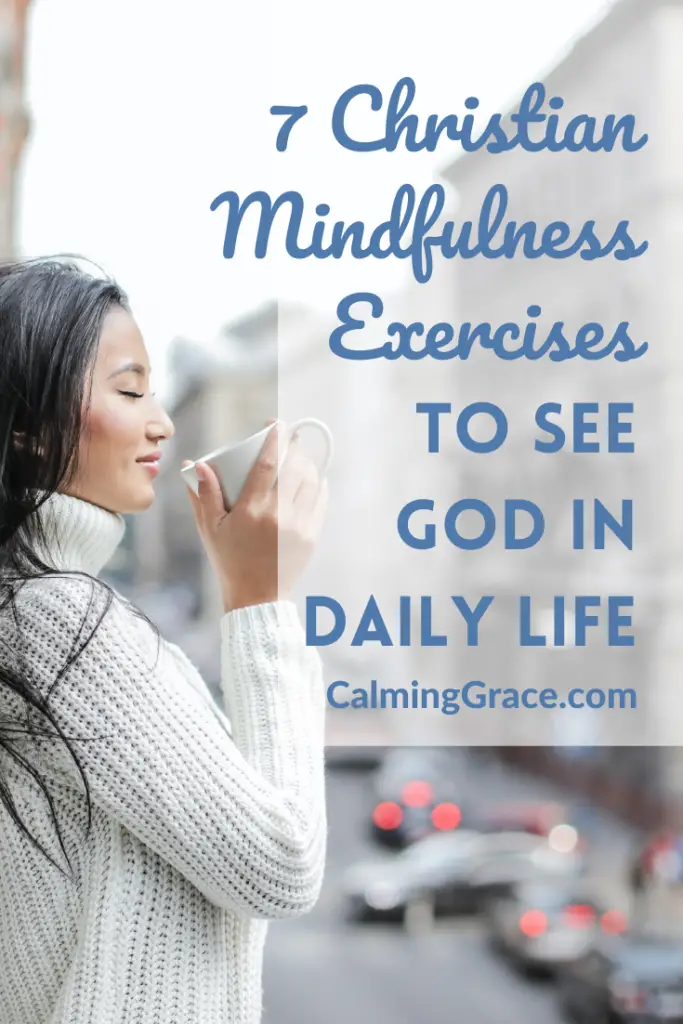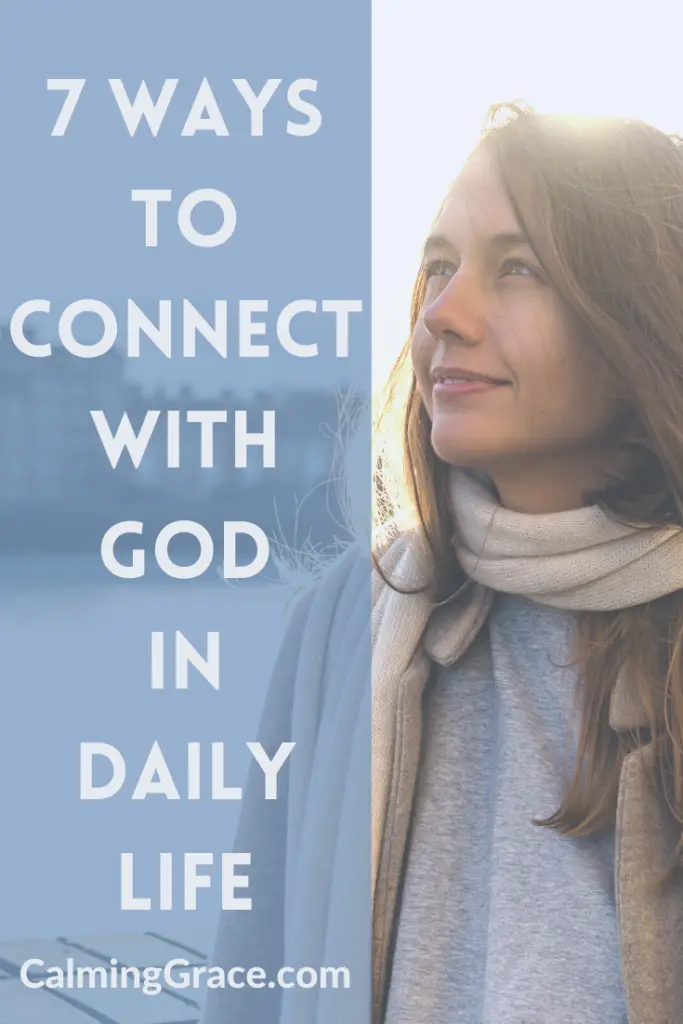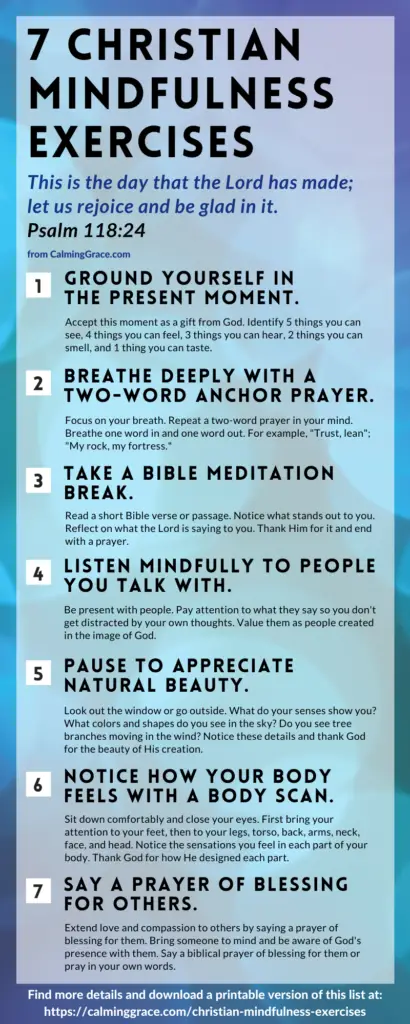 Share this article: