Creating a habit of prayer is one of the most crucial things we as Christians can do. We were created for communion with God and intimacy with Him. Prayer is one of the spiritual disciplines that allows us to grow closer to God. However, at times, the busyness of our lives overcomes our desire to pray and we find ourselves void of this critical time with the Father.
Starting a prayer journal, or adding prayer spreads to your Bullet Journal, is an excellent way to make prayer a habit and routine. Since starting a prayer journal, I have found that I am far more at peace on the days that I have meaningful time with God than the days that I don't.
Here are a few ways that I have incorporated prayer journaling into my daily routine so that I maintain constant communication with the Father. Each of these prayer journal ideas can easily be incorporated into your Bullet Journal as a separate spread!
Don't forget to save these ideas to Pinterest for later: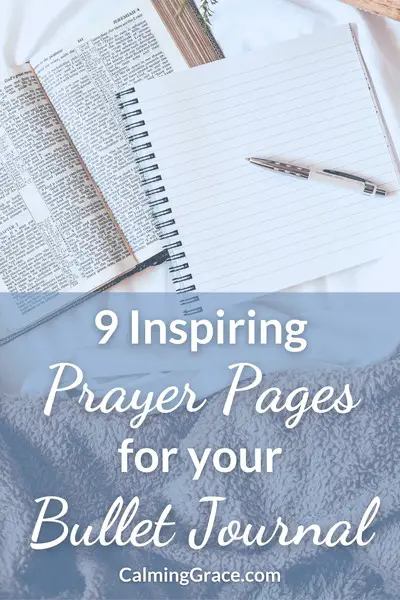 This article contains affiliate links. As an Amazon Associate I earn from qualifying purchases. If you buy something using the links, I may earn a commission at no extra cost to you. Read the full affiliate disclosure.
What Is the Purpose of a Prayer Journal?
A prayer journal is at its core a way to talk to God by writing down your prayers. I like to think of it similarly to writing in a diary, only instead of writing to a diary, you are writing to God.
Starting a prayer journal allows you to have greater focus and intentionality in your quiet time. Whether you DIY your prayer journal or use a guided journal, creating space in your day to journal your prayers is an easy way to grow your faith and your intimacy with God.
Prayer Journal Ideas for Your Bullet Journal
There are lots of ways to use a prayer journal! It all depends on what prayer looks like to you and how you want to improve your prayer routine. Personally, I enjoy using my prayer journal as a record of the goodness of God in my life. I write down my prayers, placing special emphasis on the specifics of the answers to my prayers. 
If you are considering adding prayer journal pages and spreads to your Bullet Journal, the sky is the limit of ideas that you can try. Below is a list of 9 prayer journal ideas and examples for you to add to your journal. Or, you can also try using these ideas in one of these beautiful guided prayer journals:
1. Prayer Requests
This prayer journal idea may seem self-explanatory, but it is worth mentioning because there are a few ways you can do it. If you use your prayer journal as a way to organize your prayers and determine how to guide your prayer time, then listing your personal prayer requests and the requests of others helps you know who to pray for and how to pray for them. 
Consider creating a table in your Bullet Journal and adding a column to write biblical promises that speak to each prayer request. You can also use a prayer journal template that includes space for prayer requests and the guiding Scripture to add power to your prayers. 
2. Praise Reports
One important spread to add to your prayer journal is a praise report page. This is an area where you can list the answered prayers and offer your praise and thanks to God for His goodness in your life. 
These can be answers to your prayers, as well as answers to the prayers of others. This section can then be used as a history of your testimony. You can read back through it in times of trouble and uncertainty, when your faith may be faltering. These examples of God's faithfulness can strengthen and encourage you to continue to press forward when the road gets hard.
3. Prayer Lists for Others
One great privilege we have as believers is the ability to pray for one another. It is also one of the easiest things that we can do to help one another. If you've ever found yourself telling someone that you will pray for them, but forget to follow through, then making a prayer list may be the right idea for you.
With a Bullet Journal spread to list your prayers for others, you can write the prayer requests you receive throughout the day and even write a few sentences of prayer for the person on the spot. Bonus if you circle back with that person and see how God has moved in their life through their situations. Then you can write down the answers to their prayer requests in your praise reports spread!
4. Prayers for Yourself
This is perhaps the easiest way to use a prayer journal: writing down your prayers for yourself and listing your own needs. You can do this by praying through your day. Consider each part of your day and what happened.
Think about the physical, mental, and emotional needs that you could ask God to meet. Think of where you could have made better choices throughout the day, and ask God to lead you by His grace into living more like Christ. Finally, think of the things you are thankful for and that you want to praise God for providing. List or write all these things down as prayers to God.
5. Scripture Lettering and Doodling
If you are creative and enjoy Bible journaling, doodling your prayers and Scriptures is another excellent way to use your prayer journal. Consider this one way to embrace rest as you relax and calm your mind. You could try writing out a Bible verse using hand lettering, decorating it while you listen to worship music or in silence, and then writing down the words and thoughts that come to mind. This is a great way to practice Christian meditation and focus your intentions on hearing what God has for you.
6. Writing Letters to God
Writing your prayers can be difficult for some people. If you have always thought of prayer through the lens of a religious practice, you may consider yourself someone who doesn't pray "well." But prayer isn't something we perform. It's a way of life. It is communication and intimacy with the Creator of the universe. When we pray, we are speaking to God.
If you feel that you have a hard time saying the "right" words when you pray, consider writing your prayers as letters to God. Address it to Him, "Dear God," "Heavenly Father," or "Hi Dad." Use language that you're comfortable with, and write as if you are sharing your heart with a dear friend. This can help you be more vulnerable in your prayers. 
Do you want to get to know God better through His Word, but don't know where to start? Check out the Start Now 18-Month Bible Reading Plan, which guides you through the Bible in just 15 minutes a day, with coloring sheets, prayer journal pages, and more to help you go deeper in God's Word:
7. Dreams and Words from God
Prayer is a two-way communication between God and humanity. We often think only of the portion of prayer where we are speaking to God, but a huge part of it is God speaking to us.
One of the ways that God speaks to us is through our dreams. Consider creating a page in your Bullet Journal to keep a record of your dreams. You can then use your quiet time and Bible study to hear what God might be saying to you through them. 
Also, whenever you're praying, you might hear a gentle word or impression from God. Make space for what He is telling you by quieting your mind and listening in silence. Then, write down what you hear in your journal. Try dedicating one page spread to words from God. Then you can always turn back to it and be encouraged by the Father's words of love and kindness.
8. Prayer Habit Tracker
If you're trying to build the habit of praying every day, it can help to use a prayer habit tracker in your Bullet Journal. Include prayer as one of the habits in your monthly or weekly habit tracker. Then, simply check it off every day that you pray. Visualizing the habit in this way will help you stay consistent with prayer.
If you also want to keep track of the types of prayers you pray, consider using this kind of page. You can write a simple one-line prayer every day, or summarize what you prayed for that day:
9. Prayer Guides and Prayer Points 
You can also create a Bullet Journal spread for prayer guides and prayer points. These can act as a structure or outline for you to pray through during your quiet time with God. This prayer journal idea involves finding and listing prayer points for different people or needs. You can also write down words, phrases, or even complete prayers that you can include in your own prayer time.
Start by writing down prayers from the Bible and praying through them. Add your own words as the Holy Spirit leads you. Examples include: Hannah's prayer (1 Samuel 2:1-10), Jabez's prayer (1 Chronicles 4:10), Jonah's prayer (Jonah 2:2-9), Jesus' prayer for His followers (John 17:15-26), and Paul's prayer for the church in Ephesus (Ephesians 3:14-21).
Start Using These Prayer Journal Ideas Today
If you are looking for ways to be more intentional about your quiet time with God, starting a prayer journal is an amazing way to begin. It doesn't take much to get started. With just a few supplies and a heart set on growing your faith, you can add any of these prayer journal ideas to your Bullet Journal!
Making your own Bullet Journal spreads is a great way to get closer to God through prayer. But do you feel like you need more guidance and direction in your prayer life? If you're looking for more structure in your quiet time, try using a guided Bible reading plan and prayer journal.
These guided prayer journals will help you connect with God in meaningful time in prayer and communion with Him. Check out these journals to help guide your time with God, with Bible reading plans, prayer prompts, and reflection questions:
See All Devotional Prayer Journals & Printables*
*BONUS: Use the discount code GRACETRIBE for
30% off all guided journals in the Undoubted Grace Shop!*
More Christian Bullet Journal Ideas
Looking for more inspiration for your Christian Bullet Journal? You'll also like these posts:
Follow Calming Grace on Pinterest for more Christian Bullet Journal ideas!
P.S. Want more calm in your life? Sign up for the Calming Grace email newsletter! You'll get biblical encouragement and practical tips to help you live with calm. When you subscribe you'll get instant access to 30+ Bible verse phone wallpapers: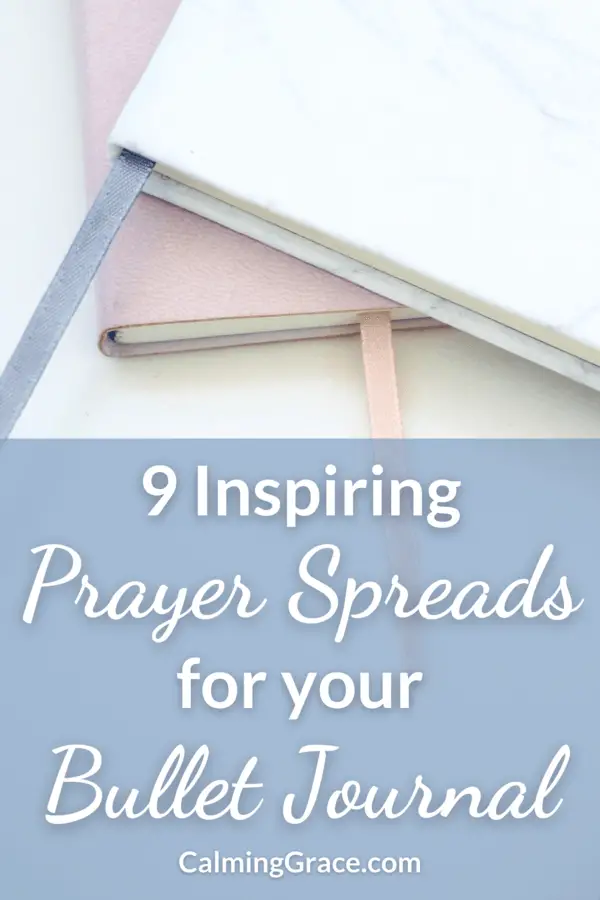 Share this article: