Last Updated: July 25, 2022
At the beginning of 2020, I decided to read the Bible in a year. And wow, what a year for it! I think the Lord must have been guiding me to make this resolution before anyone knew what kind of year it would be. Spending time with God in His Word became an anchor of stability in a difficult year.
The tool that helped me stay consistent with my Bible reading plan was my Bullet Journal. In this article, I'll show you step-by-step how to use a Bullet Journal to track a one-year Bible reading plan. This Bible Bullet Journal idea will inspire you to connect with God through His Word all year long.
You can start using this Bullet Journal Bible reading method at any time of the year, whether it's your New Year's Resolution or it's the middle of the year. This 5-step method will help you use your Bullet Journal to track a Bible reading plan every week for 52 weeks. So don't hesitate to start in the middle of the year! If the Lord is prompting you to dig into His Word, then why not start now?
Save this post on Pinterest for later: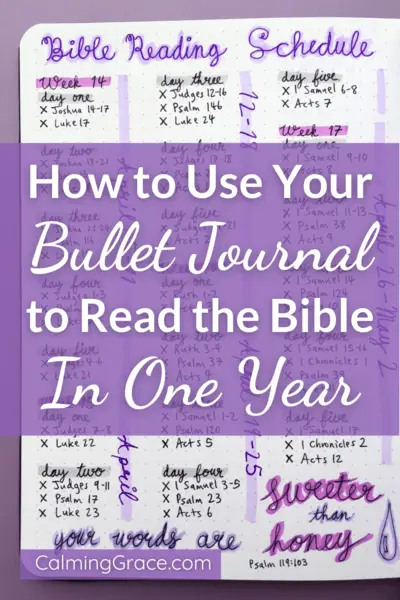 Contents
This article contains affiliate links. As an Amazon Associate I earn from qualifying purchases. If you buy something using the links, I may earn a commission at no extra cost to you. Read the full affiliate disclosure.
How NOT to Read the Bible in a Year
Before we start, here are a few recommendations of what NOT to do when you're reading the Bible in one year, whether you use a Bullet Journal or not!
Don't Commit To It Without A Purpose
A year might feel like a long time when you're starting out, but it's actually a short time to read the entire Bible! At times you'll feel like you're drinking from a fire hose. It's easy to get overwhelmed by how much Bible you need to take in to stay on schedule, especially when you hit (confession time…) Deuteronomy.
So, when the going gets rough and you start to get off track, you need to remember your reason for doing this. For me, my purpose was to better understand the chronology of the Old Testament. So whenever I felt overwhelmed by my one-year Bible reading plan, I could hold on to that purpose.
Here are some examples of purposes or reasons you might have for reading the Bible in one year:
Choose a purpose that inspires and motivates you, and that will make it much easier to stick to your one-year Bible reading plan.
Don't Commit To It Without A Plan
It might sound easy enough to just pick up the Bible and read a bit every day. But if you want to keep yourself accountable and stay consistent, you're going to need a plan, with dates and deadlines.
A couple of years ago, I intended to read the Bible every day, but I tried to DIY my Bullet Journal Bible reading plan. I simply drew boxes in my Bullet Journal for each chapter of each book. And as I went along, I wrote the date that I read the chapter in the box: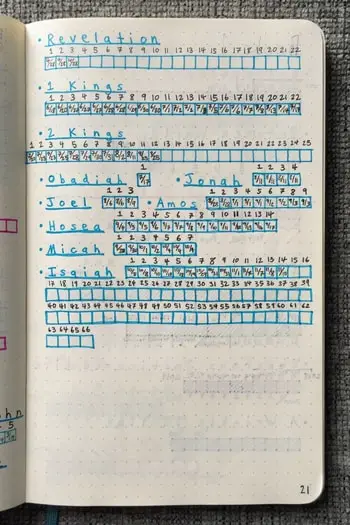 I quickly learned that this is how not to stick to a Bible reading plan. The empty boxes sat there and stayed empty, with long gaps between reading each chapter.
Just writing out the books of the Bible, without any plan to read them, is a recipe for procrastination. If you're committed to your purpose for reading the Bible in a year, you'll need a plan with set dates. We'll look at some good Bible reading plans in Step 1. 
Don't Try to Study Everything In Depth
One year is a short time to really dig deep and study the whole Bible. Reading the Bible in a year is better for getting a big-picture overview, rather than studying it in depth. The Bible is an expansive, complex book, and if you want to dig into commentaries and learn all about historical and cultural contexts, it will be hard to fit it into one year.
So, for in-depth Bible study, I wouldn't recommend using a one-year Bible reading plan. Instead, you could try delving into one book of the Bible at a time. You could spend more time studying and understanding the intricacies of that book, without the time pressure of one year. Here are some recommended Bible study resources.
On the other hand, if you think one year is not enough time, but you still want to read the Bible relatively quickly, try the Start Now 18-Month Bible Reading Plan. It comes with reading aides, prayer journal pages, flash cards and more to help you go deeper in God's Word: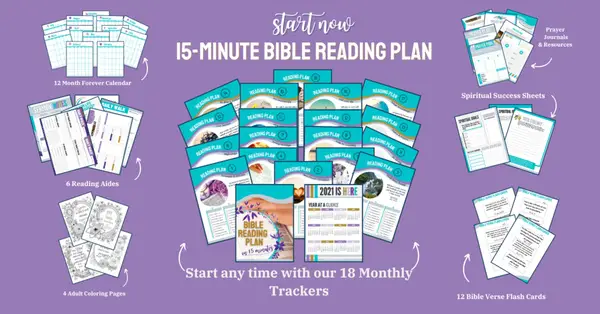 If you want to get a big-picture overview of Scripture in a short amount of time, a one-year or 18-month Bible reading plan is a great idea. Don't forget to reflect on what you read: pray and ask the Lord to teach you through it, and meditate on what you've learned.
Don't Be Legalistic
Reading the Bible in one year is a wonderful way to quickly learn more about God, but it doesn't make you a better Christian! Your relationship with God doesn't depend on how much of the Bible you read every day.
So, don't treat it like something you have to do every day to please God or to remain in good standing with Him. Rest assured that God is pleased and delighted in you, and you stand in His grace through faith in Jesus Christ.
Therefore, since we have been justified by faith, we have peace with God through our Lord Jesus Christ. Through him we have also obtained access by faith into this grace in which we stand. ~ Romans 5:1-2 ESV
So if you fall behind on your Bullet Journal Bible reading plan, don't worry about it! There are ways to catch up or adjust your plan. Reading the Bible in one year is simply a way to absorb God's Word in a relatively short amount of time. Treasure the gift of the Bible, thank God for the privilege of having access to it, and praise Him for speaking to you and teaching you through it.
5 Steps to Use a Bullet Journal to Read the Bible in a Year
Now that we've discussed the important mindsets to have when reading the Bible in a year, let's look at the 5 easy steps to use your Bullet Journal to track a one-year Bible reading plan.
Step 1: Choose a One-Year Bible Reading Plan
The first step is to choose your plan. Remember to keep your purpose in mind while you choose. I used the chronological 5-Day Bible Reading Program. I knew I wanted to read the books of the Bible in chronological order, so that I could better understand the history of the Old Testament. I also appreciated the option to read just 5 days a week, because then I could catch up on the weekends, or I could read the Old Testament passages on weekdays, and the New Testament passages on the weekend. 
Using a chronological reading plan is the best option for understanding the historical context of the Old Testament. For example, the book of Proverbs comes right after reading about King Solomon, because he wrote most of Proverbs. The Psalms are also interspersed with historical events, like Psalms that were written by David at certain points in his life.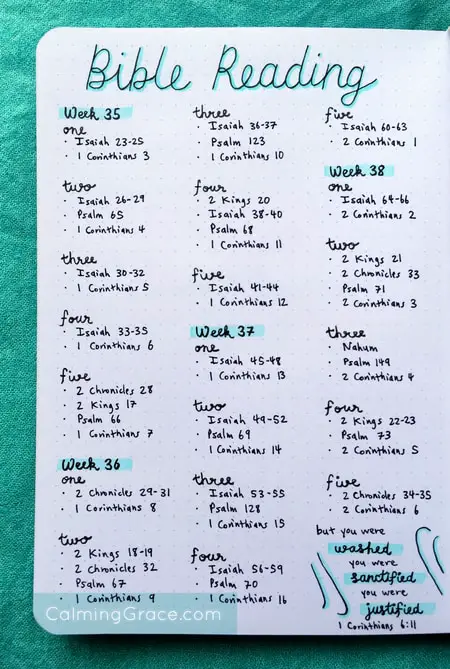 Also, a chronological plan is really helpful when you get to the Old Testament history books. So in this plan, 1 and 2 Kings are interspersed with 1 and 2 Chronicles, because they cover the same time periods and the same events in history. This plan also inserts the major and minor prophets at the right time while reading those history books.
Some other great options for one-year Bible reading plans are:
Aother option is to skip the plan and grab your own one-year Bible! I recommend The One-Year Bible, The One-Year Chronological Bible, or The Bible in 52 Weeks.
Check out this page for more Bible reading plans, Bible study resources, and devotional resources.
Step 2: Create a 12-Month Bullet Journal Bible Reading Tracker
Now it's time to break out your Bullet Journal and start getting creative! To begin, you'll want to make a 12-month tracker to mark your progress over the year. Here's my prayer and meditation tracker on the left side, next to my Bullet Journal Bible reading tracker on the right: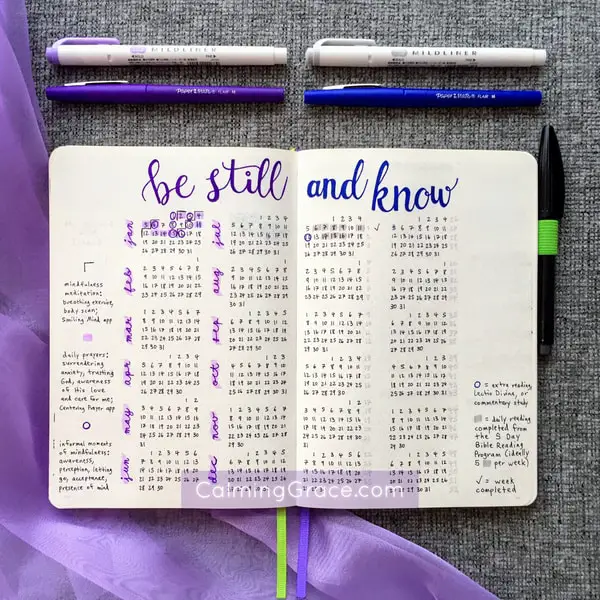 With this tracker, you can check off the weeks as you finish the readings. If you'd like, you can also track each day that you read, by highlighting the days in a different color or marking them off with an "x".
Step 3: Write the Bible Readings Weekly or Monthly
After you set up your one-year tracker, you'll need a way to keep track of what to read every day. One option is to simply print out the plan, stick it in your Bible, and mark off the readings on the printout. But, if you're a Bullet Journal junkie like me, you probably enjoy using your journal for things like this. So you could also track the Bible readings in your Bullet Journal.
There are two ways you could write the readings: weekly or monthly. If you write them weekly, you can simply incorporate them into your regular Bullet Journal weekly spreads. This is what I tried at the beginning of the year. Here's an example from March, with the 5 days of Bible reading in one section of my weekly spread: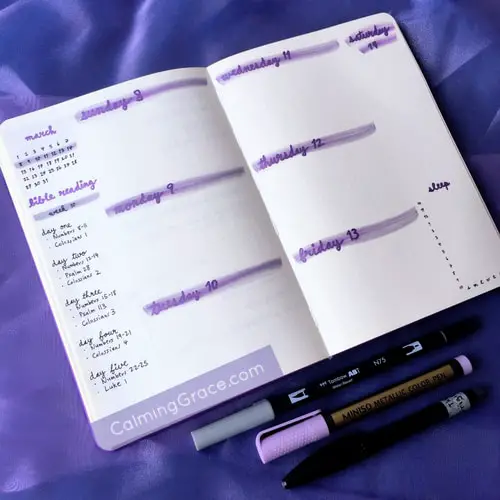 But a couple of months later, I started experimenting with different weekly spread layouts, so I needed somewhere else to write my Bible reading schedule. I decided to just write it out one month at a time: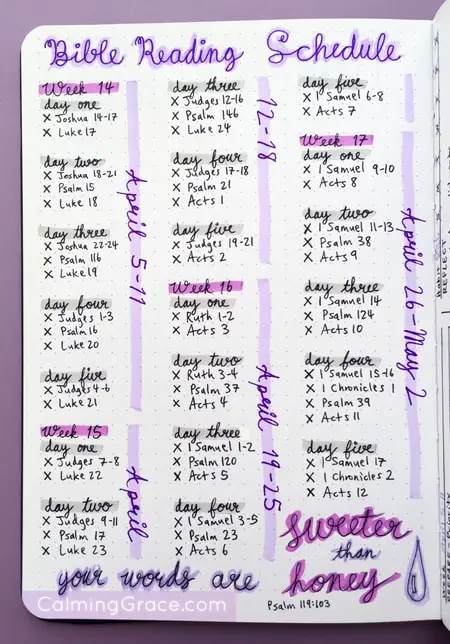 It can be a bit time-consuming to write out the readings one month at a time, but it can also be very relaxing! I like decorating my Bible Bullet Journal spreads and embellishing them with Bible verses.
But if you don't want to write out the readings every week or every month, you can always simply print out your Bible reading plan, cut up the weeks, and paste it into your Bullet Journal bit by bit.
Step 4: Check Off Days and Weeks of Readings As You Go
By now you should have your Bullet Journal Bible reading system fully set up, and the only thing left to do is simply to open up your Bible and read it!
As you go, you can mark off the days and weeks on your 12-month Bible reading tracker. You can also check off each chapter of reading like I did: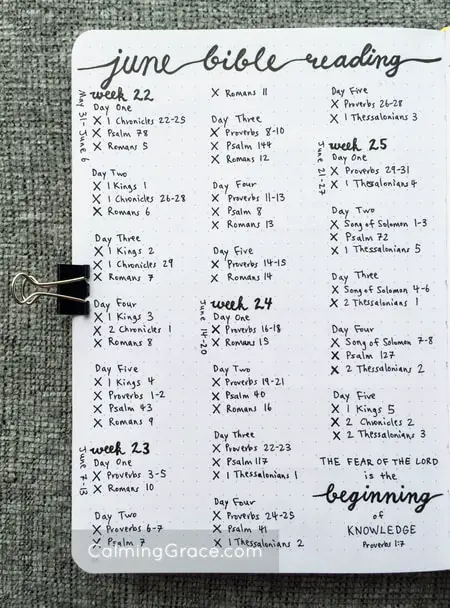 For me, each daily reading took about 20-30 minutes. But sometimes I had a burning question about something in the text and went to look it up in commentaries, so my reading time could go up to an hour. So keep the timing in mind when you're planning your Bible reading time into your daily schedule.
Step 5: What to Do if You Fall Behind on Your Bible Reading Plan
So, you set everything up, wrote things down, and started checking things off. But then, life happened, and you got a few days behind on your Bible reading plan.
First of all, understand that there's no shame in that. Give yourself grace. This is not about being legalistic and following rules; this is about absorbing God's Word and getting to know Him better. I don't think there's a command in the Bible saying, "Thou shalt read all of these 1,334 densely packed pages in 365 days." 😉
But, what should you do if you've missed a few days or even a few weeks? There are two different options. You could either make a plan to catch up, or update your plan by bumping the readings forward. Let me show you how I tried both of these strategies.
In July I started dealing with a health issue that left me with little energy to keep up with anything. At the beginning of August, I was optimistic to catch up on my Bible reading. So I created a plan to pack 2 months of reading into 1 month.
I tried to read two weeks' worth of reading every week. If you're feeling motivated, and have the ability to spend twice the time reading your Bible, this could be doable: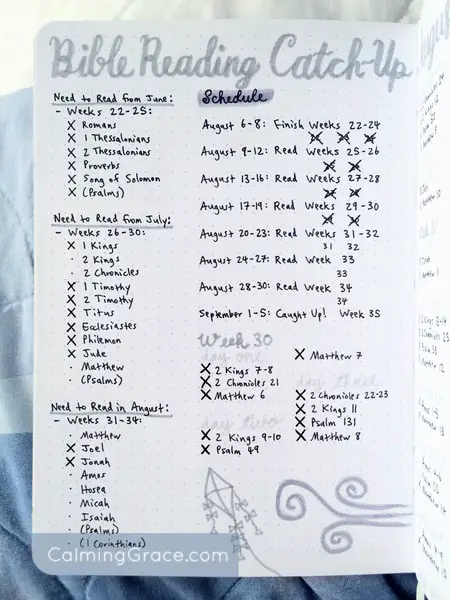 Well, what do you know. I thought I was getting better, but little did I know that my poor gallbladder was just getting worse. It eventually led to an urgent surgery to remove my gallbladder, and a significant amount of time recovering in October. 
So, mid-October I found myself over 3 months behind on my Bible reading schedule. I realized it wasn't really possible or practical to try to catch up at that point, so I decided to simply re-schedule and bump my readings forward. Here's what I did in my Bullet Journal: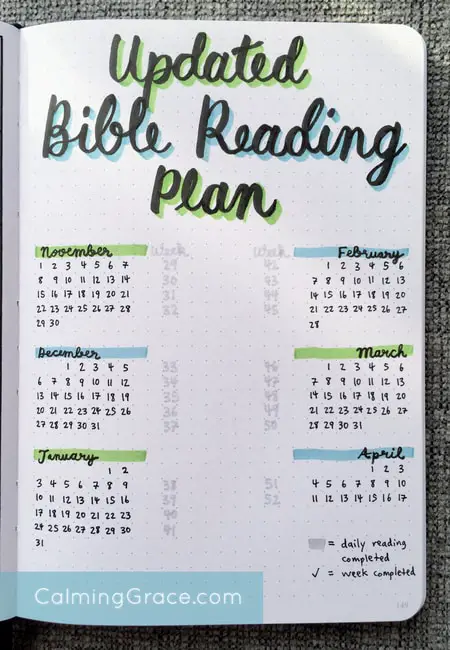 I simply made a new tracker for my updated Bible reading plan. If you're really behind on your reading, but you still want to continue, moving your readings forward is probably the best way to update your plan.
More Christian Bullet Journal Ideas
With that, that's the end of the 5-step method to track your one-year Bible reading plan in a Bullet Journal! Let me know in the comments if you try this method, and how it goes for you!
I hope this guide has been helpful for you and that you can follow this method to absorb God's Word and track your progress in your Bible Bullet Journal. Are you interested in more Christian Bullet Journal ideas? Check out these posts next:
I also collect Christian Bullet Journal spreads in this Pinterest board. Follow me on Pinterest for Bible Bullet Journal pages, plus Christian inspiration and encouragement:
Do you want to learn how to start a Bullet Journal? My free 5-day email course will show you how to start your own Bullet Journal, step-by-step:
P.S. Don't forget to bookmark, share, or pin this post to refer back to it later!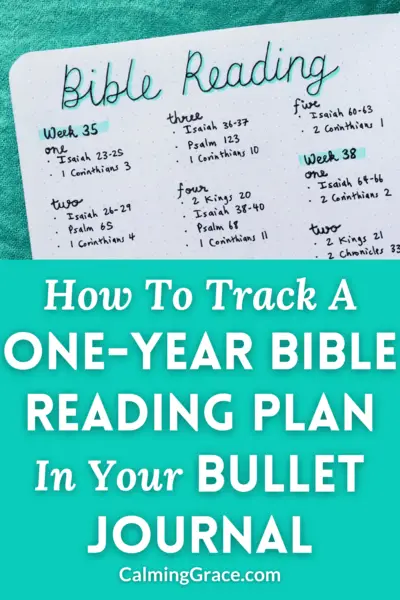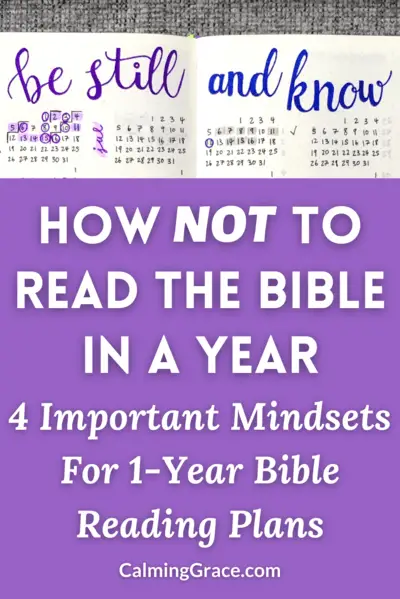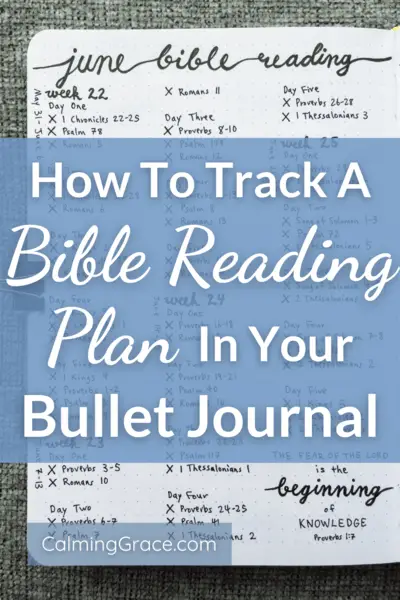 Share this article: