Enter His Rest: 30-Day Guided Scripture Meditation Devotional
Enter His Rest is a 30-Day Guided Scripture Meditation Devotional to help you be still and rest in God's presence through Christian meditation. With Christian meditation, we fill our minds with the truths of God's Word so that we can carry them with us into our daily lives. By meditating on Scripture, we cultivate trust in God, faith in His love and goodness towards us, and awareness of His presence with us.
But if you've never tried meditating on Scripture, you might not know how to get started. Where do you begin with a book as immense as the Bible? How do you meditate on a passage of Scripture? And what do you do when your mind wanders?
Following guided meditations is the best way to get started and learn Christian meditation for beginners. Enter His Rest is a Christian meditation devotional to help you learn how to meditate on Scripture, guiding you through various Christian meditation techniques to help you be still and rest with God.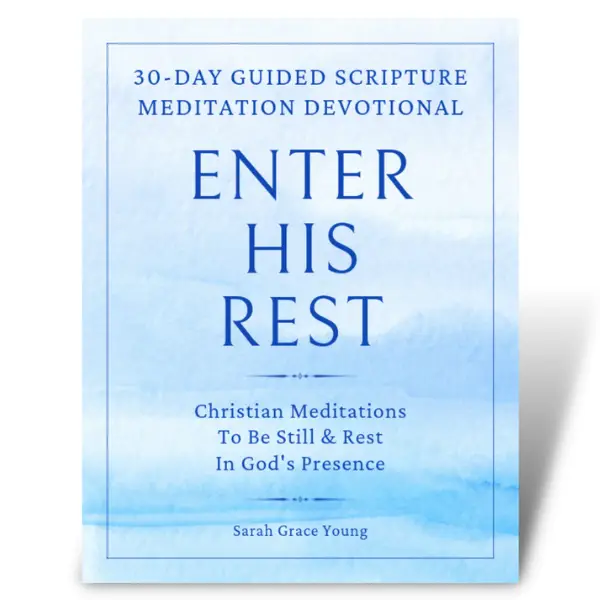 A Guided Christian Meditation Devotional
Enter His Rest is a 30-Day Guided Scripture Meditation Devotional to help you be still and rest with God through Christian meditation. The purpose of this devotional is twofold:
1. Learn How to Meditate on Scripture
This devotional will help you learn Christian meditation for beginners. It includes a thorough introduction to getting started with Christian meditation. Also, each of the 30 daily meditations provides clear, step-by-step guidance to meditate on a Bible passage each day.
2. Rest and Be Still With God
The topics of the 30 Scriptures for meditation have to do with trusting God and finding rest and peace in Him. Even as we spend daily time resting in His presence, these Scriptures will also lead us to a deeper understanding of the real and lasting rest that God gives us through faith in Jesus Christ.
Be still… Be present… Take a break from "doing," and simply "be" with God.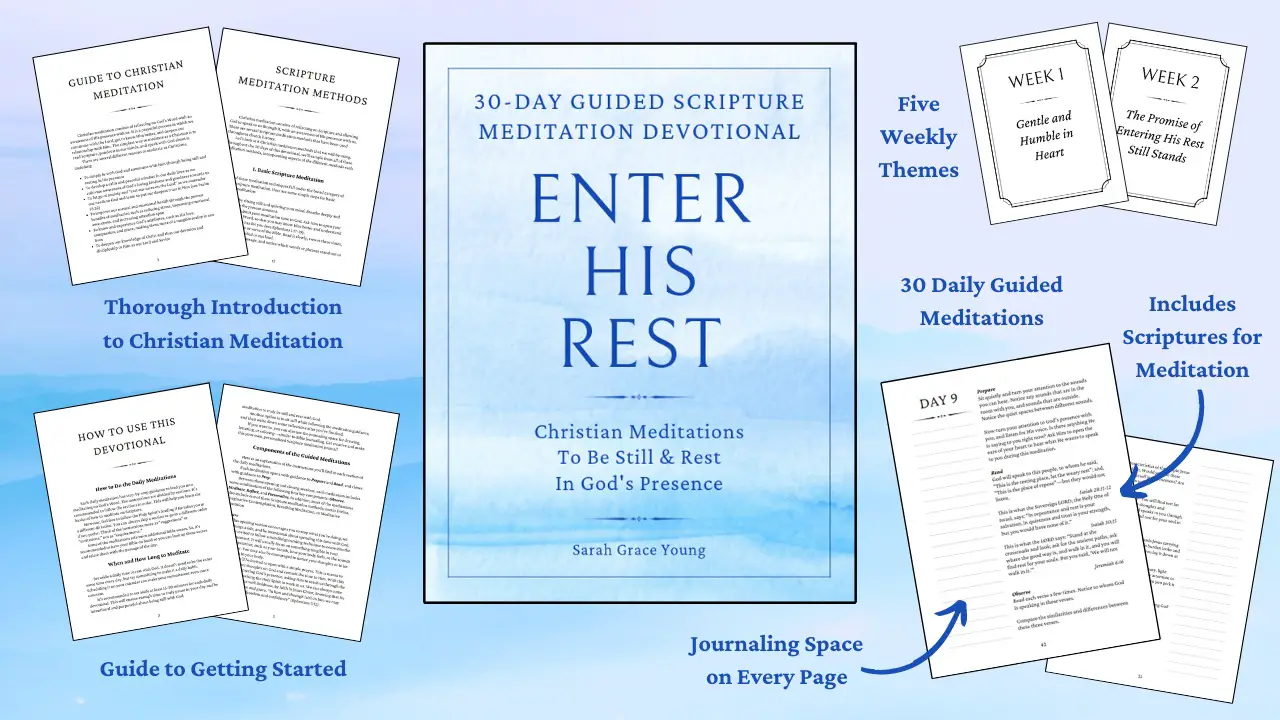 1. Learn How to Meditate on Scripture
With clear instructions and step-by-step guidance, Enter His Rest teaches you how to meditate as a Christian. It's the perfect way to learn Christian meditation for beginners. Whether you're brand new to Christian meditation or you already have some experience, this Scripture meditation devotional provides easy-to-follow directions, so you can learn and practice a variety of Christian meditation techniques.
Each daily meditation includes:
A grounding exercise and prayer to come into the present moment and prepare your heart to receive from God's Word
The passage of Scripture to read
Guidance to observe and reflect on the Scripture's meaning
A meditation technique such as repetition, breathing, using your imagination, etc.
A guided closing prayer or invitation to close by quietly resting in God's presence
It's recommended to take about 15-20 minutes for each daily meditation.
Your Guided Christian Meditation Journal
You can also use this devotional as a Christian meditation journal. Every page of the 30 daily meditations includes journaling space in the margins.
Feel free to use it to write down your reflections and prayers. You can even use this Christian meditation journal for drawing, coloring, or lettering—however you like, just like Bible journaling! Or, if you prefer, don't use the journaling space at all, and just use your meditation time to rest with God.
2. Renew Your Mind with the Truths of God's Word
Enter His Rest has 5 weekly themes and focuses on 30+ passages of Scripture about resting, being still, and finding peace in God, centered on these verses from Hebrews:
"The promise of entering his rest still stands… Now we who have believed enter that rest." (Hebrews 4:1, 3 NIV)
Scripture topics include:
Learning from the gentle and humble heart of Jesus
Walking in God's presence in our daily lives
Being still and trusting God through the storms of life
Drawing near to God with confidence in His grace
Resting in Christ's finished work on the cross
Whether you're a beginner or more experienced at Christian meditation, Enter His Rest is the perfect resource for you to learn to meditate on Scripture and fill your mind with the truths of God's Word.
Here's What Readers Are Saying
The reviews are in: Here's just a bit of what readers have said about Enter His Rest! Click here to read the complete reviews.
I have found this devotion so very helpful. I love doing it every morning. I read it alongside my Bible so I can see the full chapter that the verse is from. It really helps me to understand God's Word. Your style of guiding the reader through each day is exceptional and a wonderful help for busy people. My husband and I truly appreciate your ministry. Keep up your fantastic work.

~ Jeanne-Claire from Florida
"Enter His Rest" presents a much-needed invitation into God's presence in the midst of a busy and hectic world. Through her carefully crafted introductory sections, Sarah explains the concepts of Christian meditation and mindfulness, making them accessible to both beginners and experienced practitioners. In the daily guided meditation prompts, she puts the focus on Scripture and encourages her readers to see familiar verses in new ways. She utilizes a variety of exercises and methods, keeping things fresh and interesting.

~ Esther from Texas
"Enter His Rest" by Sarah Grace Young has the power to transform your life. The introduction section at the beginning is a wonderful resource which will help the reader gain a better understanding of why meditation is helpful, the "how to" on the actual practice of meditation, and the importance of not making the process too rigid, but being open to the Holy Spirit's guidance throughout your meditation time.

There is an indescribable depth to the way that Sarah guides the reader through each day's meditation, encouraging the reader to use their God-given imagination to enhance what it would be like to experience the Word of God, rather than just read about it. Sarah references supplementary Bible passages to help shed more light onto that day's truth, helping to give it more context and applicability. Each day's devotional is a slightly different format, ensuring that monotony and predictability never seep into the reader's experience.

Sarah takes the "work" out of trying to obtain the peace and rest we are so desperate for, reminding the reader that "rest" is already here, because God is already here, we just need to "be with Him" and receive His gift of rest.

~ Bob from Pennsylvania
Despite being retired, I still don't want to sit and meditate. I am prone to review my day at the end and to ask myself: "What tasks did I successfully accomplish today?" rather than "How did I fellowship with Jesus today?" or "Did I experience God's presence today?" But Sarah makes coming into God's presence very accessible.

Because everything about me is anti-meditation, I appreciate Sarah's step-by-step guidance, as well as her practical tips and suggestions. I appreciate that she draws from "traditional meditation methods in church history" as well as Christian mindfulness techniques. I love the simplicity and straight-forward nature of the writing; despite feeling rich, it feels accessible. I love that it's a 30-day commitment. That is within reach for many of us.

Sarah invites us into an experience of the presence of Christ rather than a passive experience of reading a prepared devotional.

~ Linda from Massachusetts
Click Here to Find Out More and Buy Enter His Rest Today!
Calmly,


P.S. Want to try out Enter His Rest first? Sign up here to get a free 3-day sample:
Enter His Rest is by Sarah Grace Young, creator of CalmingGrace.com. With God's grace as the foundation, Calming Grace exists to bring peace and calm to busy, stressed minds, using tools such as Christian mindfulness and meditation.
P.S. Save this for later on Pinterest: