I'm pleased to share this guest post about how to take a Sabbath by Elizabeth Ross. Elizabeth is curious about why people believe and behave the way they do, which inspired her studies for her Master's of Religion degree. She enjoys an afternoon behind her sewing machine or walking on the beach with her husband. She writes about Christian spirituality at elizabethrosswrites.com, and you can find her on Instagram @elzross.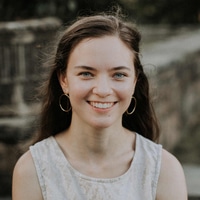 Taking a regular Sabbath day can open our eyes to our own finitude and direct our attention to the divine source of true rest. In a world obsessed with productivity and busyness, you might be wondering: Why is taking a Sabbath important for Christians? And how can you include it in your weekly calendar? I hope my story, as well as the larger Story reflected in Scripture of God's design for rest, will demonstrate the significance of consistent rest. With these examples in mind, I suggest practical ways to find rest for your body, mind, and soul on your Sabbath day. All this will show you how to take a Sabbath and embrace your own unique rhythms of rest. 
Save this article on Pinterest: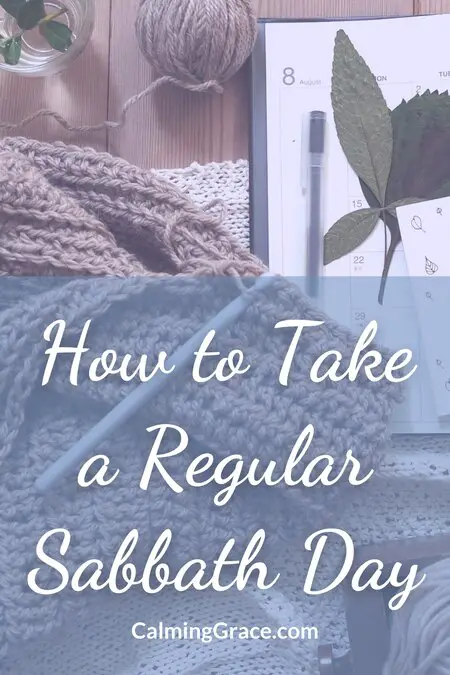 This article contains affiliate links. As an Amazon Associate I earn from qualifying purchases. If you buy something using the links, I may earn a commission at no extra cost to you. Read the full affiliate disclosure.
Trading Fatigue for True Rest
I remember exactly where I was when I realized burnout had exhausted everything in me. My husband sat across from me with a knowing look that confirmed what I knew deep down: neglecting a regular Sabbath was crippling my physical, spiritual, and mental health. As I considered my options, resting felt both impractical and impossible. I wondered where I would find the time or how effective it would truly be. And yet, I knew I could potentially lose much more if I didn't give it a try. 
I jumped in to Scripture's teaching on how to take a Sabbath. I selected one day from the week specifically for resting — no work, appointments, or homework. Instead, I intentionally prioritized play and pleasure in order to recharge according to the rhythms provided in the Bible. I experimented with rest in a variety of ways. I took long walks, shared new recipes with others, napped, browsed my local second hand store, and experimented with a Rule of Life. Within a few weeks of practicing a consistent Sabbath, I felt refreshed. I also felt better equipped to take on the joys and challenges of the week ahead.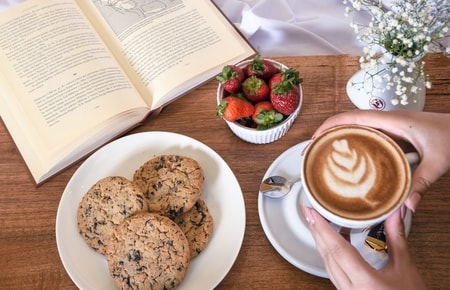 The ways in which I've rested have evolved over time, but the results have remained consistent. Instead of panic and fatigue, I feel more grounded and present in my work and relationships. Taking a Sabbath continually offers a space to rest in God's truth in the midst of life's inevitable uncertainty, joy, heartache, and hope. 
God's Design for Sabbath Rest
Among the first lines of the Bible, the author of Genesis describes God resting. It might be a little funny to think of the ultimate Creator and Life-Giver in need of a Sabbath. And yet, God sets this example for his creation anyway. Whether or not this narrative takes place in a literal or metaphorical week, it is crucial to note that work is balanced with time set aside specifically for rest. 
And on the seventh day God finished the work that he had done, and he rested on the seventh day from all the work that he had done. So God blessed the seventh day and hallowed it, because on it God rested from all the work that he had done in creation. ~ Genesis 2:2-3 NRSV
Even after sin had entered the world, God still expected Israel to practice a weekly rhythm of rest by including it among the Ten Commandments. Notice how rest transcends gender, social hierarchy, and nationality; the Sabbath is meant for all people.
Remember the Sabbath day by keeping it holy. Six days you shall labor and do all your work, but the seventh day is a sabbath to the Lord your God. On it you shall not do any work, neither you, nor your son or daughter, nor your male or female servant, nor your animals, nor any foreigner residing in your towns. ~ Exodus 20:8-10 NRSV
Jesus' Invitation to Rest in Him
In the Gospels, Jesus practices regular rest. As a rabbi, he would have taken a weekly Sabbath according to the law. But he also draws our attention back to the ultimate source and purpose of this practice, often prompting questions from religious leaders at the time.
Come to me, all you that are weary and are carrying heavy burdens, and I will give you rest. Take my yoke upon you, and learn from me; for I am gentle and humble in heart, and you will find rest for your souls. For my yoke is easy, and my burden is light. ~ Matthew 11:28-30 NRSV
Boundaries are certainly an important piece of the Sabbath, but Jesus re-imagines the commands of "dos and don'ts." His life, and the teachings of Scripture, show us that rest is built into God's original design for creation. Taking a Sabbath is more than rest for a weary world; it is a bridge into the kingdom of God.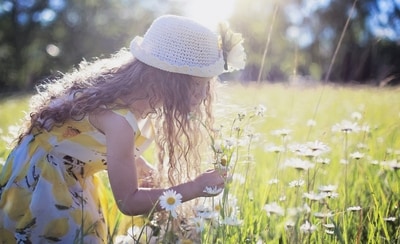 How to Take a Sabbath Rest: A Simple Approach
Taking a Sabbath day every week provides an opportunity for greater attentiveness to God's unconditional love and constant presence with us, in our body, mind, and soul. There are no hard and fast rules for how to take a Sabbath. It is not about "getting it right," but accepting God's invitation into rest.
The specific ways in which each person, family, and community practices the Sabbath will be different. Many Christians choose to rest on Sundays, but this is not obligatory. For example, clergy and those who serve their faith communities on Sundays often rest on Mondays. Students may select a new Sabbath day as each semester's schedule changes. Simply select the day that works best for you and commit to keeping it consistent for at least 3-4 months, if possible, before selecting a new day. 
Here are some simple, practical ideas to cultivate rest for your body, mind, and soul on your Sabbath day.
Rest for the Body
What activities or physical environments are most life-giving to you? These will be unique to you and should reflect God's particular creativity in you. Rest may be found in moving your body, spending time with a hobby or in nature, or lighting a candle. 
A small amount of preparation goes a long way to prevent a scrambled Sabbath. For example, if you enjoy a contemplative space, keep any books, photos, or other inspiration in a convenient spot, like a shelf or small basket next to a comfortable chair. If the outdoors call your name, set aside any supplies you'll need, like snacks, sunscreen, or sporting gear. Making a meal ahead of time or finishing a load of laundry before your Sabbath day may also help you to enjoy a more restful time. 
Rest for the Mind
Which relationships in your life cultivate gratitude, edification, and joy? Consider how to connect with important relationships without screen time, if possible. You may take time to write a letter, give a friend a phone call, invite someone over and make a meal together, or volunteer at a local charity.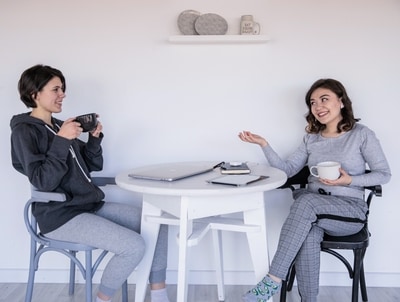 Community can be an incredible support, but others greatly benefit from solitude. Purposeful time away from others can offer time to recharge. If this feels relatable, try allotting a specific time for yourself during your Sabbath day. If you are a parent or caregiver, or share space with others, communicate your desire with those near you. Ask for support if you need childcare or a quiet space. In your time alone, whether it is 45 minutes or a whole afternoon, you may try taking a run or walk, reading, journaling, napping, visiting a museum or library, or simply sitting in the stillness.  
Rest for the Soul
What nourishes your soul? Consider what practices foster the greatest awareness of God's presence. Again, this will be highly specific to you and may overlap with certain aspects of your environmental or relational needs. You may enjoy a weekly time of corporate worship with your local community, quality time with family, or a specific spiritual discipline such as prayer, meditation, or Bible study.
One spiritual practice in particular, spiritual direction, can be an incredible monthly practice to include in your Sabbath rhythms. This space is focused on your experience with God. A spiritual director listens attentively to both you and the Holy Spirit and offers their non-judgmental presence as you process what's happening in your soul. Sessions may be done virtually or in person, one-on-one or in a group setting, and usually last an hour. 
If you are interested in exploring various approaches to soul care and spiritual disciplines, I recommend Sacred Pathways by Gary Thomas or Soul Care in African American Practice by Barbara Peacock.
Embracing God's Gift of Sabbath Rest 
These rhythms have been a beautiful gift for me and my family. I encourage you to give yourself permission to lean into this holy rest and learn more about how to take a Sabbath. As you reflect on these questions and suggestions, ask the Holy Spirit to shepherd you as you explore. I pray the psalmist's words offer comfort and hope as you embrace rhythms of Sabbath rest in your own life: 
The Eternal is my shepherd, He cares for me always. He provides me rest in rich, green fields, beside streams of refreshing water. He soothes my fears; He makes me whole again, steering me off worn, hard paths to roads where truth and righteousness echo His name. ~ Psalm 23:1-3, The Voice
If this post was helpful to you, you'll also like these posts:
Do you need more help finding rest for your soul on your Sabbath day? Consider using a guided prayer journal. Writing down your thoughts and prayers is one way to rest with God as you spend meaningful time in communion with Him. Check out these beautiful prayer and devotional journals to guide your time:
See All Devotional Prayer Journals & Printables*
*BONUS: Use the discount code GRACETRIBE for
30% off all guided journals in the Undoubted Grace Shop!*
P.S. If you liked this post, why not save it on Pinterest: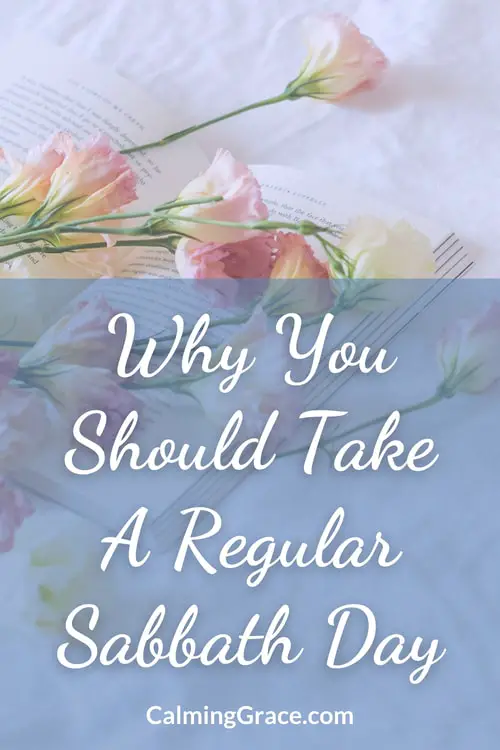 Share this article: