Last Updated: February 1, 2022
What does the Bible say about mindfulness? A lot more than you might think! These 65 Bible verses about mindfulness are organized into 10 topic categories like meditation, attention, and gratitude. We'll see that Scripture has something to say about each one of these key areas of mindfulness.
Mindfulness encourages us to pay attention to our experiences in the present moment. As Christians, our awareness of the present moment is enriched by knowing that God is present with us. Using meditation to connect with God is a biblical practice just like prayer, worship, and Bible study. We know that being still before God brings peace to our minds, hearts, and spirits. At the same time, scientific studies continue to show the effectiveness of mindfulness meditation for reducing stress and calming anxiety (see, for example, this story and this study).
So, what are the connections between mindfulness and biblical Christian faith? Is mindfulness in the Bible? Let's see what Scripture says about mindfulness with these 65 Bible verses about mindfulness. You can use this topic list to jump to a specific section:
Topics
This article contains affiliate links. As an Amazon Associate I earn from qualifying purchases. If you buy something using the links, I may earn a commission at no extra cost to you. Read the full affiliate disclosure.
Meditation
In mindfulness meditation, we are guided to pay attention to our experiences in the present moment. The Bible encourages meditation on God, His Word, and all the things He has done for us.
Read More: How Christian Meditation and Mindfulness Work Together
For God alone, O my soul, wait in silence, for my hope is from him. ~ Psalm 62:5 ESV
Within your temple, O God, we meditate on your unfailing love. ~ Psalm 48:9 NIV
Keep this Book of the Law always on your lips; meditate on it day and night, so that you may be careful to do everything written in it. ~ Joshua 1:8 NIV
I remember the days of long ago; I meditate on all your works and consider what your hands have done. ~ Psalm 143:5 NIV
May my meditation be pleasing to him, as I rejoice in the LORD. ~ Psalm 104:34 NIV       
I will meditate on your precepts and fix my eyes on your ways. I will delight in your statutes; I will not forget your word. ~ Psalm 119:15-16 ESV
I will remember the deeds of the LORD; yes, I will remember your miracles of long ago. I will consider all your works and meditate on all your mighty deeds. ~ Psalm 77:11-12 NIV
And Isaac went out to meditate in the field toward evening. ~ Genesis 24:63 ESV
Stillness, Silence, and Solitude
Mindfulness research has recognized that there is great value in spending time alone, in silence and stillness. It helps to bring peace to our busy lives and calm to our minds. Of course, this is something people of spiritual traditions have long been doing: quietly praying or meditating in solitude. For Christians, creating the time and space to be alone and still before God helps us eliminate distractions, so we can focus on God and commune with Him.
But when you pray, go into your room, close the door and pray to your Father, who is unseen. Then your Father, who sees what is done in secret, will reward you. ~ Matthew 6:6 NIV
Be still before the Lord and wait patiently for him. ~ Psalm 37:7 ESV
But Jesus often withdrew to lonely places and prayed. ~ Luke 5:16 NIV
After He had sent the crowds away, He went up on the mountain by Himself to pray; and when it was evening, He was there alone. ~ Matthew 14:23 NASB
It was at this time that He went off to the mountain to pray, and He spent the whole night in prayer to God. ~ Luke 6:12 NASB
Very early in the morning, while it was still dark, Jesus got up, left the house and went off to a solitary place, where he prayed. ~ Mark 1:35 NIV
Be still, and know that I am God. I will be exalted among the nations, I will be exalted in the earth! ~ Psalm 46:10 ESV
Being Present
Mindfulness puts a lot of emphasis on paying attention in the present moment, and not dwelling on thoughts about the past or the future. But being present takes on a whole new level of meaning when we consider that God is present with us.
In mindfulness teaching we are encouraged to bring our attention back to the present moment by focusing on our breath or some other sensation. That's a helpful way to anchor our minds in the present, but Christians can also remember God's presence as our anchor. He is always near and we can always turn our thoughts to Him, enjoying His presence in the present moment.
Read More: Awareness of God's Presence: The Heart of Christian Mindfulness
Blessed are those who have learned to acclaim you, who walk in the light of your presence, Lord. They rejoice in your name all day long; they celebrate your righteousness. ~ Psalm 89:15-16 NIV
Surely I am with you always, to the very end of the age. ~ Matthew 28:20 NIV
Even though I walk through the valley of the shadow of death, I will fear no evil, for you are with me; your rod and your staff, they comfort me. ~ Psalm 23:4 ESV
You make known to me the path of life; in your presence there is fullness of joy; at your right hand are pleasures forevermore. ~ Psalm 16:11 ESV
And I will ask the Father, and he will give you another advocate to help you and be with you forever—the Spirit of truth. … You know him, for he lives with you and will be in you. ~ John 14:16-17 NIV
Therefore do not worry about tomorrow, for tomorrow will worry about itself. Each day has enough trouble of its own. ~ Matthew 6:34 NIV
Letting Go and Nonattachment
In many guided mindfulness meditations, you'll be invited to let go of the thoughts that come up in your mind. The idea is to observe your thoughts as if you were watching another person think them. The goal of this "nonattachment" is to simply be aware of your ways of thinking, without reacting to them strongly or clinging to them very tightly. (See this study if you're interested in the research about the benefits of this.)
Scripture also encourages us to let go of certain ways of thinking. We can observe our own thoughts without having to believe them. When we notice ourselves having a thought that goes against God's Word, we can replace it with a biblical truth. For example, when we have anxious or fearful thoughts, we can instead choose to trust in our faithful God who loves and cares about us.
Read More: 30 Biblical Affirmations to Calm Anxiety and Fear
We can also let go of the ideas and norms of our culture and world that are contrary to God's will. In effect, we are setting our minds on God, His Word, and what He is doing in the world, while "detaching" ourselves from the things that the world focuses on.
Do not conform to the pattern of this world, but be transformed by the renewing of your mind. … Do not think of yourself more highly than you ought, but rather think of yourself with sober judgment. ~ Romans 12:2-3 NIV
We destroy arguments and every lofty opinion raised against the knowledge of God, and take every thought captive to obey Christ. ~ 2 Corinthians 10:5 ESV
Forget the former things; do not dwell on the past. See, I am doing a new thing! Now it springs up; do you not perceive it? I am making a way in the wilderness and streams in the wasteland. ~ Isaiah 43:18-19 NIV
There is a time for everything, and a season for every activity under the heavens: … a time to weep and a time to laugh, a time to mourn and a time to dance, … a time to tear and a time to mend, a time to be silent and a time to speak. ~ Ecclesiastes 3:1, 4, 7 NIV
Do not love the world or the things in the world. If anyone loves the world, the love of the Father is not in him. For all that is in the world—the desires of the flesh and the desires of the eyes and pride of life—is not from the Father but is from the world. ~ 1 John 2:15-16 ESV
Peace I leave with you; my peace I give to you. Not as the world gives do I give to you. Let not your hearts be troubled, neither let them be afraid. ~ John 14:27 ESV
Attention and Focus
Mindfulness, at its most basic, simply means paying attention: on purpose, in the present moment, and nonjudgmentally. It's this focus that teaches us to truly pay attention to our experiences in our lives, instead of just going through the motions on autopilot.
Read More: What Is Mindfulness? It's Simply Paying Attention
The Bible also tells us not to let our lives go by unexamined, but to be focused and intentional. Here are some verses about paying attention to God and what He says, focusing our thoughts on Him, and being watchful:
Be very careful, then, how you live—not as unwise but as wise, making the most of every opportunity, because the days are evil. Therefore do not be foolish, but understand what the Lord's will is. ~ Ephesians 5:15-17 NIV
My son, pay attention to what I say; turn your ear to my words. Do not let them out of your sight, keep them within your heart; for they are life to those who find them and health to one's whole body. ~ Proverbs 4:20-22 NIV
That the Lord may establish his word that he spoke concerning me, saying, "If your sons pay close attention to their way, to walk before me in faithfulness with all their heart and with all their soul, you shall not lack a man on the throne of Israel." ~ 1 Kings 2:4 ESV 
You will keep in perfect peace all who trust in you, all whose thoughts are fixed on you. ~ Isaiah 26:3 NLT
Pray diligently. Stay alert, with your eyes wide open in gratitude. ~ Colossians 4:2 MSG
Watch therefore, for you know neither the day nor the hour. ~ Matthew 25:13 ESV
Find more resources to learn about how mindfulness fits in with Christianity:
The Best Christian Mindfulness Resources
Perception
Mindfulness meditation focuses a lot on improving our perception of things: trying to see things as they really are. Usually, we make quick judgments and react automatically based on our previous experiences and biases. Research has shown that practicing mindfulness meditation can help to reduce these automatic, biased responses (see this study).
God also invites us to perceive things as they truly are. When we learn to see things as He sees them, we will be less automatically reactive with our cultural and individual biases, and more able to make wise judgments. Scripture tells us to look beyond appearances, uncover what's hidden, and see things as God sees them.
But the Lord said to Samuel, "Do not consider his appearance or his height, for I have rejected him. The Lord does not look at the things people look at. People look at the outward appearance, but the Lord looks at the heart." ~ 1 Samuel 16:7 NIV
For there is nothing hidden that will not be disclosed, and nothing concealed that will not be made known and brought to light. ~ Luke 8:17 BSB 
God has made His salvation known to all nations, but do people perceive it?
The Lord has made his salvation known and revealed his righteousness to the nations. ~ Psalm 98:2 NIV
In them is fulfilled the prophecy of Isaiah: "You will be ever hearing but never understanding; you will be ever seeing but never perceiving. … Otherwise they might see with their eyes, hear with their ears, understand with their hearts and turn, and I would heal them." ~ Matthew 13:14-15 NIV (see Matthew 13:1-23 for helpful context)
How do we perceive our work: for people, or for God?
Whatever you do, work heartily, as for the Lord and not for men. ~ Colossians 3:23 ESV
God's perception of time is different from ours:
The Lord is not slow in keeping his promise, as some understand slowness. Instead he is patient with you, not wanting anyone to perish, but everyone to come to repentance. ~ 2 Peter 3:9 NIV
For still the vision awaits its appointed time; it hastens to the end—it will not lie. If it seems slow, wait for it; it will surely come; it will not delay. ~ Habakkuk 2:3 ESV
Awareness of Thoughts
Being mindful of our thoughts means being aware of them without necessarily having a strong reaction to them. Our tendency is to have a thought and immediately respond to it emotionally or judgmentally. But mindfulness teaches us to simply observe our thoughts. Over time, without the strong responses, this helps our minds become more peaceful. 
The Bible also teaches us to be aware of our thoughts, and to measure our emotional responses. We should fix our minds on God instead of on our everyday concerns. The more we love the Lord with our minds, and let His Word transform our thoughts, the more our minds are filled with His peace.
Set your minds on things that are above, not on things that are on earth. ~ Colossians 3:2 ESV
You shall love the Lord your God with all your heart and with all your soul and with all your mind. ~ Matthew 22:37 ESV
"For who has understood the mind of the Lord so as to instruct him?" But we have the mind of Christ. ~ 1 Corinthians 2:16 ESV
Fix these words of mine in your hearts and minds; tie them as symbols on your hands and bind them on your foreheads. ~ Deuteronomy 11:18 NIV
For to set the mind on the flesh is death, but to set the mind on the Spirit is life and peace. ~ Romans 8:6 ESV
Finally, brothers and sisters, whatever is true, whatever is noble, whatever is right, whatever is pure, whatever is lovely, whatever is admirable—if anything is excellent or praiseworthy—think about such things. ~ Philippians 4:8 NIV
Lovingkindness (Prayer)
In mindfulness teaching, there is no mention of prayer, because many mindfulness teachers or researchers are either secular or Buddhist. But several mindfulness teachers speak about "compassion" or "lovingkindness" meditation.
You'll see lovingkindness meditations in most mindfulness apps and programs. These meditations guide you to think of a person you care about, and to cultivate kind and compassionate thoughts towards them. The meditations usually progress to showing the same love and kindness to a more difficult person, a person you don't actually like very much.
As Christians, we can frame this type of mindfulness meditation as prayer. We believe in a God who hears our prayers, so we don't only send loving thoughts to our friends. Instead, we pray for our friends and know that God will answer. Also, Jesus taught us to love and pray for our enemies. Praying for our enemies develops our capacity to love difficult people, as we experience and participate in God's love for all people.
Mindfulness teachers see the cognitive and emotional benefits of having an attitude of love and compassion towards both friends and enemies. The same things happen when we grow our love for others by praying to a God who listens.
Then you will call on Me and come and pray to Me, and I will listen to you. ~ Jeremiah 29:12 NIV
This is the confidence we have in approaching God: that if we ask anything according to his will, he hears us. ~ 1 John 5:14 NIV
And pray in the Spirit on all occasions with all kinds of prayers and requests. With this in mind, be alert and always keep on praying for all the Lord's people. ~ Ephesians 6:18 NIV
But I tell you, love your enemies and pray for those who persecute you. ~ Matthew 5:44 NIV
I urge, then, first of all, that petitions, prayers, intercession and thanksgiving be made for all people—for kings and all those in authority, that we may live peaceful and quiet lives in all godliness and holiness. This is good, and pleases God our Savior, who wants all people to be saved and to come to a knowledge of the truth. ~ 1 Timothy 2:1-4 NIV
Examples of prayers and blessings we can pray for others:
May the God of hope fill you with all joy and peace as you trust in him, so that you may overflow with hope by the power of the Holy Spirit. ~ Romans 15:13 NIV
The Lord bless you, and keep you; The Lord make His face shine on you, and be gracious to you; The Lord lift up His countenance on you, and give you peace. ~ Numbers 6:24-26 NASB
Dear friend, I pray that you may enjoy good health and that all may go well with you, even as your soul is getting along well. ~ 3 John 1:2 NIV
Gratitude
Mindfulness encourages gratitude, but never tells you to whom you should be grateful. Some guided meditations will tell you to think about how thankful you are for the things you have. But who are you giving thanks to? As Christians, we give thanks to God, because everything we have is a gift from Him. 
Give thanks to the LORD, for he is good! His faithful love endures forever. ~ 1 Chronicles 16:34 NLT
With praise and thanksgiving they sang to the LORD: "He is good; his love toward Israel endures forever." And all the people gave a great shout of praise to the LORD. ~ Ezra 3:11 NIV
Do not be anxious about anything, but in every situation, by prayer and petition, with thanksgiving, present your requests to God. ~ Philippians 4:6 NIV
For everything God created is good, and nothing is to be rejected if it is received with thanksgiving. ~ 1 Timothy 4:4 NIV
Whatever is good and perfect is a gift coming down to us from God our Father, who created all the lights in the heavens. ~ James 1:17 NLT
Be thankful … singing to God with gratitude in your hearts. And whatever you do, whether in word or deed, do it all in the name of the Lord Jesus, giving thanks to God the Father through him. ~ Colossians 3:15-17 NIV
Curiosity and Wonder
There's a concept in mindfulness teaching called the "beginner's mind." It means looking at everything in your life as if you were seeing it for the first time. Imagine doing something you do regularly as if you were a beginner trying it for the first time. You would probably feel a new sense of curiosity and interest, an almost childlike joy and wonder about the task.
I think this is a beautiful idea. It's a reminder to be childlike with God, to approach Him with new wonder and curiosity every day, and to appreciate the beautiful things He has created, as if experiencing them for the first time.
But Jesus called the children to him and said, "Let the little children come to me, and do not hinder them, for the kingdom of God belongs to such as these. Truly I tell you, anyone who will not receive the kingdom of God like a little child will never enter it." ~ Luke 18:16-17 NIV
When I look at your heavens, the work of your fingers, the moon and the stars, which you have set in place, what is man that you are mindful of him, and the son of man that you care for him? ~ Psalm 8:3-4 ESV
Lift up your eyes and look to the heavens: Who created all these? He who brings out the starry host one by one and calls forth each of them by name. Because of his great power and mighty strength, not one of them is missing. ~ Isaiah 40:26 NIV
I praise you because I am fearfully and wonderfully made; your works are wonderful, I know that full well. ~ Psalm 139:14 NIV
For since the creation of the world God's invisible qualities—his eternal power and divine nature—have been clearly seen, being understood from what has been made, so that people are without excuse. ~ Romans 1:20 NIV
Mindfulness in the Bible
This list of Scriptures on mindfulness has shown us that mindfulness is in the Bible. As we've seen here, God's Word tells us to meditate, be still, be aware, be grateful, and several other practices that are taught in mindfulness.
What does this mean for how Christians should practice mindfulness? It means that while we should always use biblical discernment, practicing mindfulness can help us to cultivate God-honoring attitudes and habits in our hearts. As in all of His creation, God's grace is present in mindfulness, with many beautiful reminders about how we can set our minds on Christ.
So, do you want to find out more about how to practice mindfulness as a Christian? Keep learning with these articles:
Which of these Bible verses about mindfulness was most interesting to you? Let me know in the comments below!
P.S. Download more than 30 Bible verse phone wallpapers for free
Want to keep this list for future reference? Why not bookmark, share, or save it to Pinterest: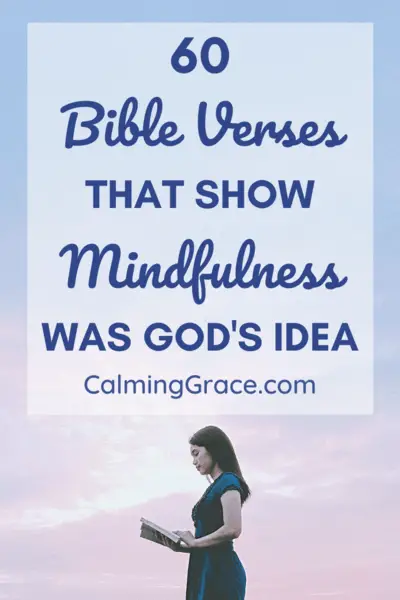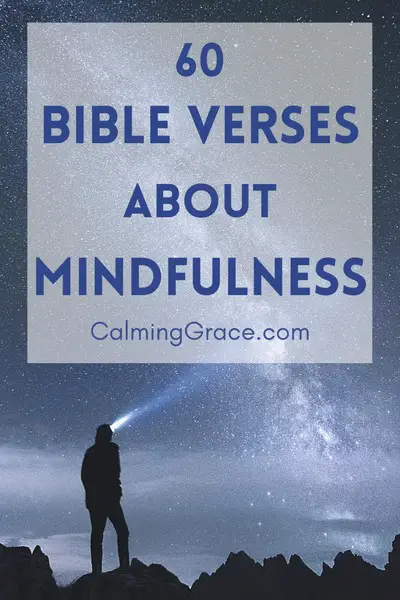 Share this article: